Sunday School & Special Studies
Small Groups and Special Studies are some of the ways that we learn more about what it means to follow Jesus through reading and reflecting on the Bible, prayer, worship, and daily life. We learn better in community and we know that the connections made as we learn together are also pivotal to our life in God.
Churchwide Study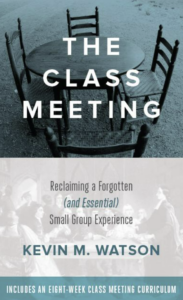 More and more Methodists are starting to question why their congregations are stagnant and/or declining in membership. It is admittedly a complicated question that is couched in the direction our society has taken towards a post-Christian, secular worldview where everyone's god is just as valid as the One true God of all creation.
I am absolutely convinced that the concept of "small group" formation is a large part of the answer. As such, reinstituting that type of formation lies at the core of the yearlong venture I (your pastor) is taking to lead you (the congregation) into finding effective ways of reversing the trend towards secularization in our local church and community. The bottom line is we need to "jump-start" a renewed focus on how to integrate things like class and band meetings into the culture of the church.
This book study and accompanying sermon series are going to make the case for why class meetings specifically are the best starting point for such an effort. I am inviting every member/non-member of the church and community to take that journey together. Join us as Kevin Watson and John Wesley lead us into a renewal movement, the likes of which hold the potential for transforming both the church and the community for the glory of God's kingdom on earth.
Materials needed for the study:
The Class Meeting: Reclaiming a Forgotten (and Essential) Small Group Experience – $20.00
A Bible
A heart yearning for the Church to be relevant to a world in need