Sunday School & Special Studies
Small Groups and Special Studies are some of the ways that we learn more about what it means to follow Jesus through reading and reflecting on the Bible, prayer, worship, and daily life. We learn better in community and we know that the connections made as we learn together are also pivotal to our life in God.
Churchwide Study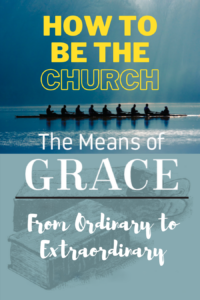 The Bible tells us that Jesus' followers are called disciples. If we want to be counted among those followers, then doesn't it make sense that we figure out just what being a disciple looks like in everyday life?
Beginning the week of Mardi Gras and Ash Wednesday, we will be undertaking a yearlong trek to better understanding how to be the Church in a culture that no longer values it as it once did. Our first leg of the journey will be based on the book, The Means of Grace: Traditioned Practice in Today's World by Andrew C. Thompson.
Thompson offers us an in-depth and accessible guide to the core tenets that John Wesley, the founder of Methodism, instilled in the early Methodist movement – baptism, searching the scriptures, prayer, the Lord's Supper, fasting, fellowship, accountability, works of mercy, and exercising the presence of God. Each of these means of grace are drawn from biblical examples and paired with a framework that offers a practical contemporary model for living a life marked by holy love and holy transformation.
Wesley had a phrase for what it means to live faithfully as a disciple of Jesus: walking in the ways of God. The means of grace demonstrate a Wesleyan pattern of discipleship and help the Christian come to a deeper understanding what these ways of God are.
Materials needed for the study:
The Means of Grace: Traditioned Practice in Today's World by Andrew C. Thompson – $20.00
A Bible
A heart yearning for Christ